Empowering women to trade globally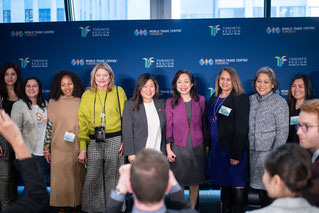 The Organization of Women in International Trade (OWIT) was formed back in the 1980s in the US. Its story is part of the journey towards gender equality, with a focus on empowering women to trade globally. A not-for-profit global association, OWIT's mission is to advance women in international trade and business, engaging over 2,000-plus members and 20 chapters around the globe that impact hundreds of millions of dollars in trade and business transactions annually. The organization provides education, information and high-quality networking. OWIT has local chapters in Canada, in Toronto and Ottawa.
As the first Canadian chapter of this premier global trade association, OWIT–Toronto is a 20-year-old non-profit designed to promote women doing business in international trade. Through networking, educational and professional growth opportunities, the organization helps to build members' expertise in the international trade arena. Members include women entrepreneurs, service providers, trade practitioners, executives, government representatives and businesswomen involved in international trade as well as students passionate about international trade.
OWIT-Toronto serves as a gateway to potential marketplaces through its global network, connecting women to the right contacts for support, information, education and inspiration. This includes connections to like-minded women, access to business contacts and service providers like bankers, as well as to trade missions, and information about financing programs that help support international growth. Through pursuing strategic partnerships with groups and programs both domestically and internationally that support women's economic empowerment and global trade, OWIT-Toronto amplifies networking opportunities for its members. It also showcases role models to inspire other women and the younger generation to pursue trade careers and opportunities.
Susan Baka is VP International, and Justine Namara is Director for the
Organization of Women in International Trade – Toronto chapter
(OWIT-Toronto)
For more information on membership and to sign up, visit