| | |
| --- | --- |
| Women & Business Contest |   |
| Pacific Trade Show - Toronto 2019 |   |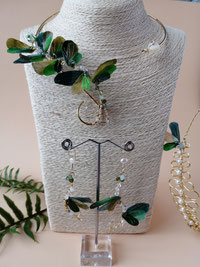 Armario de Maru is a company dedicated to innovating in the making of accessories made with fish scales as a raw material, handcrafted by artisans, with a centuries-old technique creating pieces for both women and men. It has been in business for 10 years and it is led by women
Main products are oriented to the celebration of weddings, fifteen years, sweet sixteen, First Communion, baptisms and other special occasions.  The list of accessories can also be used in corporate, executive, social events and even day-to-day activities.
All its accessories are made of fish scales using a Panamanian artisan technique of more than 100 years old. We also use river pearls, jade stones, Swarovski and Murano crystals, mother of pearl shell, Agate stones and other semi-precious stones as a complement creating unique pieces.
In our product catalogue, you will find Rosaries, Denarii, lapel pins for men and brooches for women and men, crowns, headbands, combs, brooches, earrings, button studs, accessories sets for women, flower applications for using on fabric or other types of surfaces as decoration.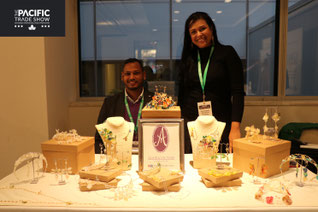 Maria Eugenia Martinez de Mosquera, Founder & Creative Director works with humble artisans in Panama creating beautiful and unique pieces of art.
Is your company currently exporting?
In the last three years, we have been exporting via e-commerce to the United States and Canada. We have also had the opportunity to send orders to customers in Spain, Belgium and Germany.
What is the biggest challenge your company faces to export? 
The biggest challenge we have when exporting is to find shipping solutions in an efficient way and affordable price to avoid affecting the cultural value of the work carried out by our artisans. Our goal is to find distributors for our products in the market, in order to save time and money in shipping costs.
What advice would you give to a company led by women looking for opportunities in the international market? 
Nothing happens by chance, everything is the result of knocking, opening doors and building roads.
Small businesses led by women these days have an excellent opportunity to believe and find the right support needed. In the case of artisanal and cultural companies, like ours, the situation is more challenging and that is why everything we do should be disclosed to raise awareness of our unique offer.
The international market wants new experiences and we are capable of contributing this innovation with new ideas and products.
How was your experience participating in the "Women & Business Contest" at Pacific Trade Show Toronto 2019?
It was a pleasant experience to meet people with very similar objectives and to discover new markets. 
The conferences, field visits with potential clients and experiences that we shared among the participants, helped us to understand the possibilities of marketing our product in a multicultural market, vibrant and full of great appeal.
The Pacific Trade Show is our annual event organized as an international program and a platform looking to bring together knowledge and connections to support entrepreneurs that are interested in learning more about international trade with the final outcome that is EXPORT.