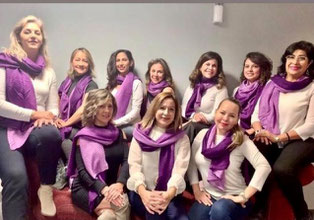 Hispanic Women's Network is  a group of Hispanic professional women from diverse part of Latin-America that create spaces through social and professional events to: engage, empower, and motivate women of our Community to grow in their business, enlarge their network and believe in themselves.
It was founded in May 2013 by Sandra Riano, a recognized Colombian psychologist, who brought together a group of independent female entrepreneurs with the aim of creating a space among Latin women where they could be inspired by each other, creating spaces for networking and personal growth.
What problem does your organization address, and how?
To provide support, personal development, trust, confidence friendship and good connections through our events, promoting the entrepreneurship and financial independence of the Latin women in Canada.
In which ways does your organization help women entrepreneurs?
We provide:
Mentoring program

Opportunity to enlarge their network to commercialize their service or products through our events

Opportunity to be part of our Business Directory in our website 

Opportunity to be part of our great Business Expo. Space reserved to entrepreneur women's business 
How important are partnerships or collaboration with other organizations?
The collaboration between organizations is very important. The good alliances make the programs  more attractive, resourceful  and reachable  for our community.
What advice would you share with entrepreneurs as they begin their journey?
As an entrepreneur you need  to listen, be persistent, creative,  and have strong self-motivation and hard working skills .
Do you want to connect with Hispanic Women's Network?
Website
www.hwnca.ca                          
 Facebook
HWNca  
Email

info@hwnca.ca